The impacts of Coronavirus in the UK can be felt all across the country. These impacts are mounting, especially now that we in the UK are all in a Coronavirus lock-down. As a result, everyone is feeling the stress and pressure of this unprecedented situation in different ways.
What impacts is Covid-19/Coronavirus having in the UK?
In this article, three members of the Aurora New Dawn team give interviews on the impacts of Coronavirus on the UK VAW sector, how Aurora has responded to the lockdown, what the Covid-19 lock-down means for the future of the sector, and who to contact if you want to speak with someone.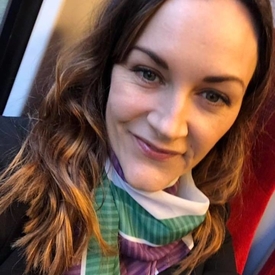 Shonagh – CEO
Founded Aurora New Dawn in 2011.
Shonagh has over 25 years of experience working in the violence against women sector.
Her work in the VAW sector has been recognised with multiple local and national awards, including Civil Servant of the Year Award 2007.
Shonagh studied at Southampton University, graduated in Law LLB and is a doctoral research student.
She has worked with both Refuge and the Early Intervention Project.
To see a summary of the transcript, click here.
Zoë – Operations manager
Zoë has strategic responsibility for the operation and delivery of Aurora's frontline domestic abuse and sexual violence services, and leads on the organisation's work with the Armed Forces.
Zoë holds a Law degree (LLB) from the University of Bristol and a Master's degree (MSc) in Criminology and Criminal Psychology (with distinction) from the University of Portsmouth.
Her dissertation on the identification and management of serial domestic abuse offenders was given the SAGE award for Best Masters Dissertation 2016.
To see a summary of what was said, click here.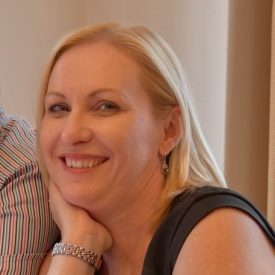 Lyn – Community projects manager
She has worked in the VAW sector for 15 years with a working background in sexual abuse.
Lyn is a qualified Humanistic Counsellor and a Clore Leadership Fellow (Feminist Leader).
She developed and obtained an OCN Quality Mark for Aurora's Athena Programmes. Aurora's Athena Programmes are domestic abuse and self-esteem programmes which incorporate supporting prostituted women and harm-minimisation.
To see a summary of what was said, click here.
Who can I contact during the UK Coronavirus lock-down?
The 24/7 helpline number is 02394 216 816, do not hesitate to get in touch. To see our full list of contact numbers and services, click here.
Shonagh's response to the Coronavirus lock-down
What was your priority for Aurora New Dawn when you heard about the COVID-19 lockdown?
Shonagh explained that the most important thing was the safety of clients. Therefore, the first thing that she did was to write a safety plan for victims and survivors stuck in lock-down with abusive partners. As a result of this, many organisations across the UK got in contact with Aurora to request that safety plan.
The next priority was to consider how Aurora could continue to operate under the new Coronavirus lock-down restrictions and how this would affect how the team would work. Preparations to make sure the Aurora team were prepped to work from home included a test day. Aurora already had a cloud based paperless system which helped to reduce the impact.
One of the largest impacts on the Aurora team has been in terms of face-to-face interaction as the Aurora team have a great and productive rapport which enables them to bounce off of each other.
How has COVID19 changed your working conditions?
Covid-19 has had a massive impact, the team are also experiencing self isolation as Coronavirus doesn't discriminate. While the team are lucky because they have a roof over their head and food in the cupboards, the isolation still has an impact. On a personal level, Shonagh is looking out for her team and making sure they touch base regularly.
In terms of work, Aurora has managed to mobalise and adapt to the situation. Shonagh is very proud of the speed in which her team, the organisation, and the wider sector has managed to mobilise as a charitable and women's movement, which is often working on a financial back foot, yet has managed to continue operating to the best of its ability.
Can victims still get in touch with you? And how?
Aurora new Dawn has set up a 24 hour 7 day a week helpline, so they can be contacted anytime. The office line is still in operation but just redirects to team members mobiles. So hours of Aurora service have actually extended and this system will continue until the lock-down ends.
The 24/7 helpline number is 02394 216 816, do not hesitate to get in touch. To see our full list of contact numbers and services, click here.
What impacts do you think the Coronavirus situation will have for the future of victims and survivors?
There are different ways Aurora can be proactive in reaching out to victims and survivors, but Aurora recognises, as a sector, that the capacity for victims and survivors to get in contact is limited. Once the Coronavirus lock-down is lifted, Shonagh believes that we will see a surge in victims and survivors coming forward across many different sectors. Not just domestic abuse, but also sexual violence and stalking.
Regarding stalking, it is known that some stalkers, not all, have severe mental health issues, and the lock-down will impact on their mental health and therefore their behaviours will increase. Furthermore, due to the nature of the lock-down, we will also see an increase in cyber stalking. Aurora is lucky to have the only digital media investigations advocate in the UK (to Shonagh's knowledge).
Shonagh also believes that we will see an increase in sexual violence, particularly around intimate partner relationships, so these referrals will come forward. She further adds that we will see a massive surge in domestic abuse and people needing help either to flee their home or enter a refuge space. This situation in turn will have an impact on those refuges as the numbers increase.
Shonagh adds that there will of course be an increase in the number of people seeking advice and guidance around what their options are. In summary, Shonagh believes there will be a huge surge in referrals to the Aurora service.
Coronavirus and perpetrators of abuse
Shonagh wanted to say that Coronavirus does not make someone abusive. They were already abusive, perpetrators are exploiting the Covid-19 lock-down to exert further power and control over their partners.
The symptom checklist is NOT.
Dry cough
Temperature
Being a perpetrator
Covid-19 does not cause someone to be a perpetrator, they were already abusive. The message that Shonagh would really like to get out there is that, across the country, we are all experiencing these exacerbating factors, we are all experiencing stress, high levels of negative mental health, however the vast majority of us walking through life do not choose to take that out on our partners. Abusers are choosing to behave in that way and Covid-19 cannot change that either for the better or worse.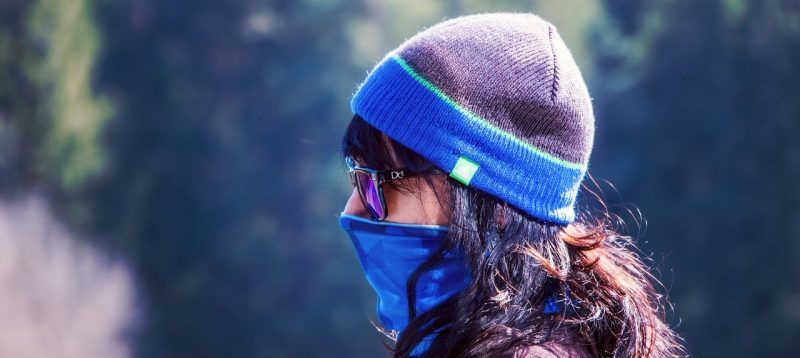 A summary of Zoë's answers to the Coronavirus lock-down questions
What was your first thought when you heard about the Coronavirus lockdown?
Zoë wanted to make sure that Aurora continue to deliver their services and continue to reach the people who need them, so the first thought which went through Zoë's head was 'how do we make that work?' and 'how do we make that happen as quickly as possible?'. Aurora had a good understanding of what the lock-down might mean for people experiencing domestic abuse and so their first focus was about mobilising as quickly as possible to prepare for that.
How soon was it that Aurora began making changes to their form of operation?
The Aurora team followed the news closely, they knew it was a developing situation and prior to lock-down had a good understanding of the direction the Coronavirus situation was headed in. Therefore, Aurora began making preparations for working offsite so that when they lock-down came Aurora was ready for it.
What changes has Aurora had to make because of COVID19?
There were a variety of changes which Zoë says Aurora had to make:
They had to adapt to working remotely rather than in offices.
It was necessary to stop face to face work in accordance with Government guidance.
A transition to an electronic diary system was made to streamline communication in the event of incidents such as staff sickness.
The subject of accessibility was re-examined as the lock-down has meant increased isolation with a lack of access to support, two examples Zoë gives of increased access to support are:

Making sure that messages across social media are getting out there so that everyone can see Aurora is very much still in operation.
Getting the 24/7 helpline off of the ground and raising awareness of it so that people can get in touch with Aurora at different times of the day as and when they need support.
The aforementioned 24 hour, 7 days a week helpline number is 02394 216 816, please get in touch with us. If you would like to see our complete list of contact services, click here.
How are victims responding to the change of circumstances?
The lock-down is having an impact on people's safety, on the abuse they are experiencing and their ability to access support. Aurora is in contact with clients which they had before, and Aurora was in contact with them before the lock-down to discuss the implications the lock-down could have for them moving forwards and how they could maintain contact with Aurora.
Zoë says that Aurora is providing support in ways which may be a bit different from before the lock-down, as they cannot meet clients face to face they are adapting to contact via the telephone and through messages and emails.
Aurora is contacting clients more briefly, it might be that clients have less time to speak with Aurora so Aurora maximises the time that they have. Some clients might need a bit more support, whilst others may be accessing that support less and at times when it is safe for them to do so.
What worries do you have regarding the impact of Coronavirus going forward?
For Zoë, the worries are for how long the Coronavirus lock-down goes on as Aurora are of course concerned for victims safety, their emotional and physical safety. This lock-down period may exacerbate what they are experiencing or this may be a period in which people begin to experience abuse for the first time due to tensions in homes. Examples of what may cause these tensions are financial problems and the toll the Covid-19 situation has taken on mental health. In terms of safety and well-being for the people Aurora work with, the duration of this lock-down is a concern.
As a service provider, what concerns Zoë is that Aurora was already delivering services on the ground which were stretched to their capacity, and Zoë's concern is that now with the lock-down more people will need the services which Aurora offers and will need those services in more creative ways. However, the sustained ability for the VAW sector to provide those services will be challenged as they are under funded.
Zoë says that she is incredibly proud of the front-line staff, how they have adapted, how they have hit the ground running, and the dedication they have made to making sure that the clients are supported. That this is hugely inspiring considering that they are also experiencing isolation in lock-down on a personal level.
Another positive is that Aurora is adapting and learning new ways of working that may well benefit Aurora in the long-run. Many of the new ways of working are things which Aurora will carry forwards long after the Covid-19 situation has died down.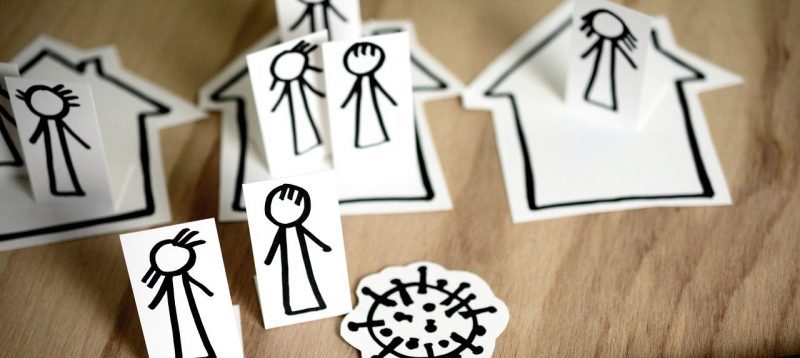 Lyn's Coronavirus lock-down interview summary
When you first heard about the Coronavirus lockdown, what was your priority for your service areas?
Lyn had two main priorities, the first was to make sure that victims and survivors were still getting a support service and the second concern was to ensure that the staff at Aurora New Dawn were all safe.
Were the staff at Aurora New Dawn allowed to go out?
Aurora quickly made the decision to work from home and made sure that everything was in place and staff were working from home two or three days before the Government lock-down because it was thought this was the safest thing to do for staff.
However, there were a couple of members of staff who work with the DVA cars project who work face-to-face with clients at a point of crisis on a Friday or Saturday evening. Aurora wanted to keep the project going as they felt it was really important to keep it running as a project but Aurora was informed by the police that external services are no longer allowed to go out with the police during the lock-down.
To learn more about Aurora's DVA car project click here.
How have you adapted your working to Covid19?
Aurora had to stop face-to-face visits, Aurora could no longer provide support in courts and had to limit the support to before or after court visits either online or over the phone. All group work such as Aurora's group work done in prisons has had to be suspended until further notice.
Are victims still able to contact you? How are they responding?
Yes, victims can still contact Aurora New Dawn. A new helpline has been set up. Clients of Aurora were informed of the changes which would take place during the lock-down and that support could no longer be face-to-face. Aurora can be contacted:
Via the Aurora website.
Over Facebook and social media.
Over the phone.
The helpline is available 24/7 and the number is 02394 216 816, please contact us if you are looking for support or advice. To see our full contact list and services, click here.
What are your concerns for the duration of the Coronavirus lockdown and beyond?
The first point of Lyn's concern is that victims are locked down with their perpetrators which increases their risk to any type of abuse, whether it is emotional or physical. If they are not living together, it might increase the cyber aspect of stalking as due to lock-down the perpetrator may increase their creativity and use the internet and social media for access.
Lyn and the Athena project
Athena is a project which Lyn works with, Lyn goes in to prisons and works in group settings with female offenders who have or are experiencing domestic abuse. She does domestic abuse and self esteem programmes with them. However, due to the nature of visiting prisons and being in a closed room with 10 to 15 people this has had to be suspended until after the lock-down.
Lyn had to contact the Athena funder, who has given Aurora an extension on the contract, as Aurora is contracted to deliver a certain amount of programmes but due to Coronavirus the deadline could be missed.
A final word from Lyn
Aurora made sure that all members of their staff could work from home and had the right technical setup in terms of having access to a laptop and the Aurora secure cloud. With the DVA cars, had to stop doing face-to-face but still had a hotline which the police could use to refer clients to Aurora. The hotline has now been extended in to a 24/7 helpline for all clients.
Aurora's work with stalking
In addition to domestic abuse, Aurora also offer a stalking support service. Stalking awareness week 2020 is between the 20th and the 24th of April and the Aurora helpline can be used if someone has any questions regarding stalking or cyber-stalking.
To learn more about Aurora's work with stalking click here.
Next step…
Do you want to get in touch with us?
Want to donate to our cause? 💜
Want to know more about us?