Aurora and Adam
It was lap dancing that brought Shonagh, the CEO of Aurora New Dawn, and me together. At least, that's how we would joke about it in the years that followed. In 2019, a lap dancing club was reopening near where I lived and I was unhappy about what this would mean for the local community. Long story short, I discovered that Aurora had attempted to block the opening, so I reached out to them to see if anything could be done to help them.
The more I learned about what Aurora stood for; safety, support, advocacy, and empowerment to victims and survivors of domestic abuse, sexual violence, and stalking, the more I wanted to dedicate time to helping them in what way I could.
At first glance, it might seem that there's no place for a man with Aurora; Aurora rightfully has an all-female staff in order to provide safety and support for its clients. Being a man, it was clear to me that any involvement I had with Aurora would have to be appropriate to this fact. And so it was that I found myself 'the website dude,' dealing with the technical maintenance of the Aurora website. A role I was grateful for as it balanced helping the cause with appropriacy.
My running journey
Time passed and in my free time, I began running for my own health and fitness. I began entering competitions and events to set myself goals. When signing up for my first event, I realised this was a great opportunity to show my support for Aurora's cause. Consequently, I badgered Shonagh for an Aurora t-shirt to wear and away I went. Every event I entered I would wear my shirt to show my support. Then post the photos of me at the events online and share them with friends and family. Later, in the run up to 2022's 5km Great South Run, I regularly posted online and set up a fund raiser page for Aurora.
This 2023, I had made such progress with my running that I entered the 10-mile Great South Run. What a privilege it was to run in the Great South Run with seventeen thousand others, all there for different reasons, so many doing it for charity, and to be showing my support for Aurora.
Running for change
Aurora seeks to raise awareness of the violence against women epidemic. As is often the case, women are the ones speaking out about the violence against them while men all too often look on. I firmly believe that it is crucial for men to actively engage in this, adding their voices in condemnation of violence against women.
As all men, I have women in my life, all of which I want to protect. I want a future in which women don't have to live in fear of experiencing violence. By supporting Aurora and participating in events to raise awareness, I hope my small contribution is a reminder of the need for a world where women are respected, protected, and empowered to lead the lives they choose.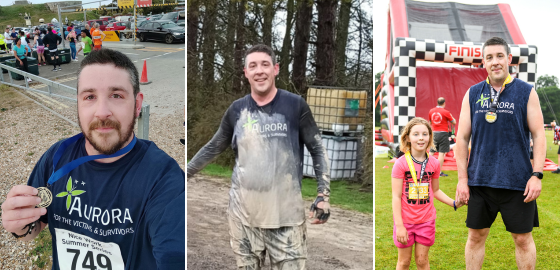 If you would like to support the Aurora New Dawn charity and you are able to donate you can do so here:
If you would like to support our female only group work and you are able to donate you can do so here:
Aurora's helpline – 6pm to 9am Monday to Friday and 24hrs over the weekend 02394 216 816
Next step…
Do you want to get in touch with us?
Want to help us raise awareness?
Want to donate to our cause? 💜