The British Army
Domestic abuse, sexual violence and stalking affect people in the British Army Community too.
We understand that members of the forces community can feel particularly worried about the consequences of seeking support. That's why we provide a dedicated service to help Army, Navy and RAF personnel and their families.
Abuse and the British Army
The British Army Community is unique, and service life brings with it a number of challenges. This can make it harder for people to ask for help when they are experiencing domestic abuse, sexual violence and/or stalking. It might sometimes mean they don't talk about their experiences at all.
At Aurora, we recognise that service life is different, and that people in the forces community are often worried about the consequences of speaking out about these issues. We have designed our British Army support service with this in mind.
Our specialist Advocate understands service life, and how difficult it can be to talk about what is happening. Domestic abuse, sexual violence and stalking is never ok: we want to make sure that those with links to the Army, Navy and RAF get support that has been designed especially for them.
"Because you work with the British Army it's not like talking to a normal civilian as things in the British Army are done differently and you can support us and make the service tailored to us" – Aurora Client
What do the British Army say about domestic abuse, sexual violence and stalking?
The British Army are clear that behaviours like domestic abuse, stalking and sexual violence are not acceptable and will not be tolerated.
'No Defence for Abuse' (the first Defence Domestic Abuse Strategy, launched in 2018) outlines a clear commitment, across the defence community, to:
"…work to remove any stigma, real and perceived barriers to reporting domestic abuse to foster a culture that gives survivors confidence that they will be listened to and offered appropriate and professional support"
Abusing or harming others in any way is directly at odds with service Values & Standards, like these from the British Army.
The main policy document addressing domestic abuse within the British Army is Joint Service Publication (JSP) 913, Tri-Service Policy on Domestic Abuse and Sexual Violence. Although not currently available online, JSP 913 details the responsibilities of the chain of command and the procedures for military welfare provision. Each of the three Services has additional policies that are Army, Royal Navy, or Royal Air Force specific.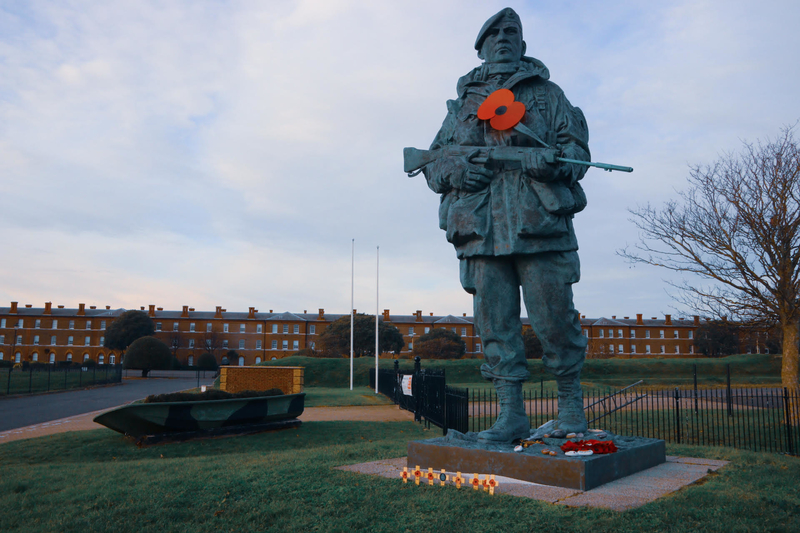 © Photo by ContactPhotography
What support does Aurora provide to the British Army community?
We offer support to any serving member of the British Army (Army, Navy & RAF) who is experiencing domestic abuse, sexual violence or stalking. We also offer support to family members where the person responsible for the abusive behaviour is currently serving.
Our service is available to women and men aged 16 and over.
We will support people regardless of whether they have made an official report to the police (service or civilian).
We work with our clients on a one-to-one basis, offering specialist advice tailored to their individual situation and support needs. We will support someone for as long as required.
Our work prioritises safety and wellbeing. We use nationally recognised risk and needs assessment tools to ensure we provide the best possible support, reduce the risk of harm and keep our clients, their families and their children safe.
Our work is also client-centred. That means we work with our clients on the basis of what they want to do, and we will not put pressure on them to take a particular course of action if they are not ready.
Where are you based?
We are based in Portsmouth (UK) but will accept referrals for those based both across the UK and abroad.
For those local to the service, we offer both face to face and telephone support. For those living further away (or abroad), we can offer support by telephone or Skype depending on what the individual feels comfortable with.
If an individual client would like face to face support local to them, we are happy to work with them to help them access specialist local services (and ensure that those services understand their support needs).
If I contact you, who will you tell? Is the service confidential?
We are a confidential service and we are independent of the Army, Navy and RAF. It is important to us that our clients know they can access our support in confidence and without fear that their information will be shared with others unnecessarily. We know that this is something that often causes particular anxiety for those in the forces community.
We will not discuss your case or share your information with any other individual or organisation (British Army or civilian), except where you have given your consent for us to do this, or where we are concerned that you, another adult or a child is at risk of harm.
We do know from experience that the best way to support our clients as effectively as possible is to work alongside relevant forces services (such as welfare) and other agencies in a co-ordinated way. We will ask you for your explicit permission to contact identified personnel, professionals and organisations that can help your situation, and we will always explain what we will share with them and why.
Aurora's experience and expertise:
Aurora have been delivering support to members of the forces community for a number of years. We have built strong relationships with the Army, Navy and RAF and we work closely with them to ensure that our clients receive the support that they need in relation to domestic abuse, sexual violence and stalking.
Our staff have extensive experience and specialist training in domestic abuse, sexual violence and stalking. We use recognised risk and needs assessment tools to ensure that all our clients get the support that is right for them and their situation.
As part of our work we also deliver training to forces personnel on a regular basis. We are currently rolling out a programme of stalking training, designed especially for the forces, which focuses on supporting each service to provide the best possible response in cases where stalking is a factor.
Our clients tell us that working with a service that understands forces life is important to them, and it is important to us that we put our client's voices and lived experiences at the centre of what we do.
"You understand all the extra things we have to go through – like moving house, moving around a lot and things like that" – Aurora Client
How can I contact you?
If you are a member of the forces community looking for support around these issues, please get in touch. You can contact us in a number of ways:
*voicemail service may be in operation.
Where else can I get support?
If you are in immediate danger, or concerned for your safety, please call the police on 999
Army:
Personal support provide accessible, independent, confidential and professional specialist welfare services to serving soldiers and their families with any personal or family difficulty, including the issues outlined on this page. You can contact the team on 01904 882053
Royal Navy & Royal Marines:
The Naval Service Family and People Support (NS FPS) (formerly Royal Navy and Royal Marines Welfare) team offer confidential advice and support, including in relation to domestic abuse, sexual violence and stalking. You can speak to one of their highly trained staff by calling 023 9272 8777 or find a local contact here.
General
SSAFA provides support to anyone who is currently serving, or has ever served, and their families including those experiencing domestic abuse. Their Stepping Stones Homes are a safe place to stay for women and their children. You can contact them on 0800 731 4880.