It's back and 2013's march and rally is going to be the biggest and loudest yet!
Join us at the Spinnaker Tower at 7pm for the march or catch us at the Rally at the Guildhall Square from 8pm.
Portsmouth White Ribbon group have partnered with Aurora New Dawn to bring you this year's RTN, and we're aiming for a crowd of at least 1000 people on the march with us…..
We've got some fantastic surprises lined up for the most loyal and loudest fans in Pompey at our after-march Rally in the Guildhall Square – don't miss it!
If you want to get involved with the Portsmouth White Ribbon Group and the annual Reclaim the Night March, please contact the White Ribbon Group via Shonagh Dillon for more information and dates of our next meeting: info@aurorand.org.uk
Click the image below to download and print your poster.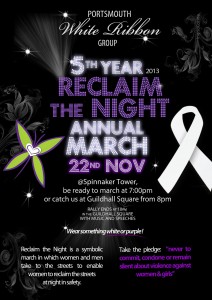 Cli